Best beachfront hotels in Tulum
Have you ever wondered what the advantage of beachfront hotels in Tulum is? Hotels in Tulum with ocean views provide a more spacious and relaxed stay; they are among the most sought-after accommodations, especially if you want to wake up and see the beautiful blue sea and palm trees reflecting the colors of the sunrise. Here are the top 5 beachfront hotels in Tulum.
Best Beachfront Hotels in Tulum
Imagine waking up every morning to the soothing sound of the waves and the sea breeze caressing your face. Beachfront hotels in Tulum offer a unique experience, allowing you to enjoy panoramic ocean views and easy access to the beach at any time of the day.
In this list, we have carefully selected the best beachfront hotels in Tulum. Each one offers a charming ambiance, exceptional amenities and a privileged seaside location. From cozy boutique hotels to luxurious resorts, there's an option for every type of traveler.
Get ready to immerse yourself in the serenity of Tulum and relax at these magnificent beachfront hotels – discover the perfect getaway for your next vacation in this Caribbean paradise!"
Playa Canek Beachfront Eco Hotel
If you're looking for beachfront hotels in Tulum, Playa Canek Boutique Eco Hotel is ideal for you. It is a rustic-style establishment with a private beach area located on the beaches of Tulum, just a 10-minute drive from the city center.
The bedrooms are bright and feature air conditioning, a terrace, and a living room. The bathrooms are for exclusive customer use and come with a shower, complimentary toiletries, and towels. The rooms include a sea view, bed linen, and a fan, and some even have hammocks.
The hotel also has a seafood area where fresh seafood is prepared over an open fire. Being close to the city of Tulum, it has restaurants serving traditional regional dishes and international cuisine.
Additionally, the hotel offers airport shuttle services, a garden, and water activity areas. It is one of the best beachfront hotels in Tulum and has a shared lounge and a tour desk.
Various sports activities can be enjoyed on-site and in the surrounding areas, such as cycling and snorkeling. It is located a 12-minute drive from the ADO bus station, a 1-hour drive from Playa del Carmen, and 7.6 km from the Tulum archaeological site.
Posada Lamar Tulum Beach Front and Pool
Posada Lamar is one of the beachfront hotels in Tulum with unimaginable charm and elegance. It is located on the beach, just 6 km south of the Tulum beach road. It offers bungalows with fascinating decor and breathtaking ocean views.
All rooms at the property are designed with local craftsmanship and fabrics in various shades, and the bungalows have balconies with extremely comfortable hammocks and palapa roofs.
The Tulum ruins are less than a 15-minute drive from this tourist hotel. The town of Tulum is only a 10-minute drive away, where you'll find an abundance of shops, bars, and restaurants. The beaches are also ideal for activities such as diving and snorkeling.
Gramercy Tulum
If you're looking for accommodation just steps away from South Tulum Beach, Gramercy Tulum is one of the beachfront hotels in Tulum that will make your dreams come true. It offers accommodation with a restaurant-bar, free private parking, a bar, and a garden.
This 5-star hotel has an incredible ocean view thanks to its private beach area. The air-conditioned rooms feature free Wi-Fi and a private bathroom. There is a 24-hour front desk and room service.
The rooms include a desk, bed linen, and towels. Room service offers a continental or à la carte breakfast, and as if that weren't enough, there is a terrace where you can enjoy a magnificent view.
Posada del Sol Tulum
Posada del Sol Tulum is one of the beachfront hotels in Tulum that is widely talked about. It is located on the soft white sandy beach of Tulum and the Caribbean Sea, making it an ideal choice for those looking for beachfront hotels in Tulum. Moreover, the hotel is just a 10-minute drive south of the Tulum ruins and 15 minutes away from the Sian Ka'an Biosphere Reserve.
Posada del Sol Tulum is an eco-friendly hotel. All rooms have a private bathroom without a door, designed according to each guest's preferences and equipped with toiletries.
This hotel is located in a small area off the beach road, making it ideal if you're looking for splendid views. Additionally, if you stay here, you have the freedom to visit Tulum, which is just a short 15-minute bike ride away. This lively town is full of shops, restaurants-bars, and exotic clubs.
It is one of the beachfront hotels in Tulum that is ideal if you want to enjoy the crystal-clear waters of the Caribbean Sea and clear your mind under the summer sun. It also has areas for scuba diving and snorkeling, such as the second-largest coral reef in the world, where a huge variety of colorful fish live.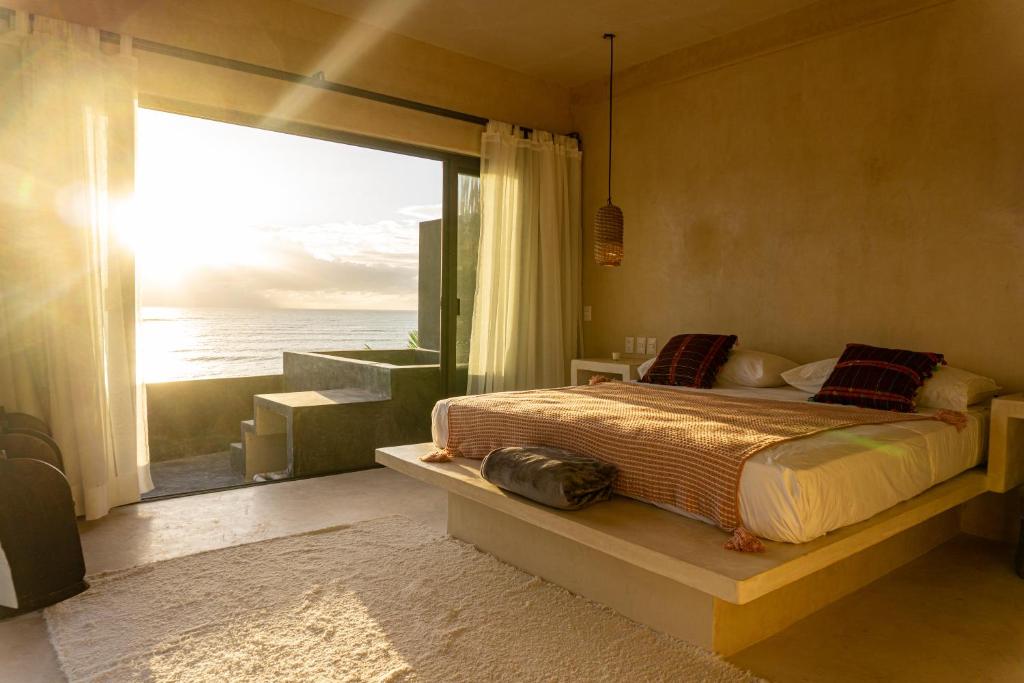 Casa Altamar
If you want to stay under the Soliman Bay Beach and can't find some of the more affordable beachfront hotels in Tulum, don't despair, Casa Altamar is for you. It is located in Tulum, 1.9 kilometers from Soliman Bay Beach, and offers accommodation with a restaurant-bar, private parking, and an outdoor pool.
The property provides a private beach, water sports facilities, a garden, and a balcony. Additionally, room service offers a continental or à la carte breakfast.
Hotel Shibari Tulum
Immerse yourself in the magic of Tulum and discover a true oasis at Hotel Shibari Tulum. This charming accommodation is among the best hotels in the area, captivating travelers with its surrealistic surroundings and unique atmosphere.
Instead of a conventional hotel, Hotel Shibari Tulum invites you to experience something extraordinary. Its exquisite architecture and location among the trees of the Mexican Caribbean's tropical jungle will transport you to a dreamlike world. Here, you'll enjoy an unforgettable stay and completely fall in love with your surroundings.
With a warm and sub-humid climate all year round, Tulum offers the perfect opportunity to enjoy nature and explore the ancient archaeological sites that surround it. If you're looking for the best hotels on this beautiful Caribbean coast, Hotel Shibari Tulum is an option you shouldn't overlook.
Ver esta publicación en Instagram
Conclusion
The city of Tulum will never cease to amaze us with its wonderful beaches, cenotes, caves, and natural beauty. So, no matter where you stay, you're going to enjoy it like you can't imagine. See you soon in another post about hotels in Cancun.